History of Disability and Accessibility Leadership
In collaboration with the Division of Disability Resources and Educational Services, the College of Applied Health Sciences continues our pioneering efforts on behalf of the full inclusion of people with disabilities by developing the very first university-based professional certificate in information accessibility design and policy.
From ramps and curb cuts in the 1940s to remote-controlled elevators today, the College of Applied Health Sciences at Illinois has been at the forefront of the fight to give people with disabilities equal opportunity to participate in and benefit from the programs, services, and activities of educational, healthcare, and employment settings.
In 1944, a bill was passed that provided a variety of financial benefits to returning veterans of World War II. The G.I. Bill, as it was known, included cash payments of tuition and living expenses that would allow vets to attend college. At the time, conventional wisdom held that people with disabilities could not lead normal lives or be gainfully employed. What would be the point, therefore, of sending them to college?
Dr. Timothy Nugent did not accept conventional thinking. He believed people who used wheelchairs could succeed academically if physical barriers that prevented them from accessing campus buildings were removed. As a result of his vision, passion, and perseverance, the University of Illinois at Urbana-Champaign became the first post-secondary institution to offer a program of support services to students with disabilities, the Division of Disability Resources and Educational Services (DRES), the service unit of the College of Applied Health Sciences.
Under Dr. Nugent's leadership, the University achieved a number of significant "firsts" in serving people with disabilities:
The first curb cuts at a post-secondary institution
The first fixed-route buses with wheelchair lifts
The first college-level adapted sports and recreation program
The first study abroad program for students with disabilities
The first and still the only residential program to serve students with severe disabilities who require assistance in performing daily living tasks
The first state-of-the-art residence hall integrating students with and without disabilities in a unique living-learning community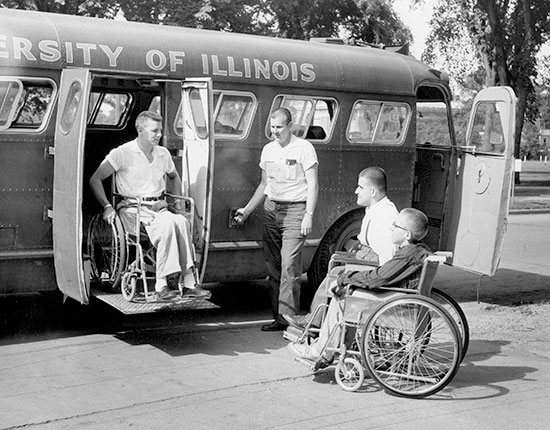 In addition, seminal research at the University of Illinois led to the development of the first architectural accessibility standards that were later adopted by the American National Standards Institute.